Our Operations
RZM Murowa is a medium scale diamond mine. In the early 1990s the Company conducted an exploration programme in Zimbabwe focusing solely on diamonds. In 1997, this exploration came to fruition with the discovery of three diamond-bearing kimberlite pipes in the Murowa area. Production from RZM Murowa began in 2004. Its current name-plate capacity is around 1.2 million carats per annum of predominantly white, gem-quality diamonds. We produce reasonable quantities of large "special" stones.
A truck and backhoe method is used to extract ore from the three open pits. The waste is drilled, blasted and trucked away using dump trucks. This leaves the ore available for extraction, which is crushed, processed and pumped to the final recovery plant.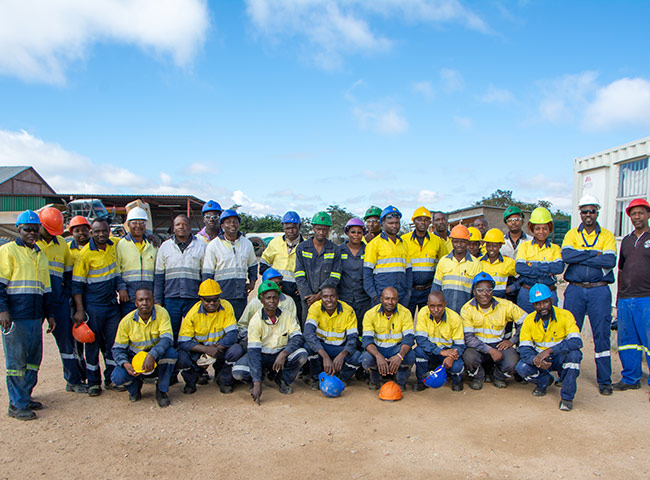 Our People
At RZM Murowa we truly believe that our competitive edge comes from our people. We have invested meaningfully in performance management, leadership training and skills development that have presented opportunities for our employees to achieve their full potential. We recruit people from the local community, which benefits families and communities in the region.
Our workforce currently stands at 820 people, 20% of which are women and 56% from local communities. Some of our successes to date include a maintainer operator programme that started at the inception of our operation, apprenticeship, graduate trainee and attachment programmes that provide vital on the job training for students from tertiary institutions across Zimbabwe.
From Mine to the Market
RZM Murowa produces beautiful diamonds that are typically large, predominantly white, gem quality and are ideal for the bridal/status markets around the world. Our rough diamonds are initially sized at our facilities in Harare then exported to Antwerp for onward sorting and selling to international customers. As per our government regulations, at least 10%  are extracted for selling within Zimbabwe to members of the local cutting and polishing industry.
Our diamonds follow a strict chain of custody and we adhere to the principles of the Kimberley Process Certification Scheme (KPCS).
​1990's
Ore bodies discovered in the Mazvihwa district, Zvishavane town in Southern Eastern Zimbabwe by Rio Tinto plc.
2000's
Feasibility studies and pilot plant at Renco mine.
2004
Production commenced at RZM Murowa Mine at 0.08M tonnes per annum (pa) DMS capacity.